298 King
Japanese, Sushi
$$
We're not sure whether to consider Izakaya Hiro on lower King new or old. Previously named (and better known as) "Sushi Hiro," the restaurant was recently acquired by the Rev Group (Closed for Business, Monza, Taco Boy, Poe's Tavern and The Royal American).
The ambiance is very feng shui-and-Japanese feeling. The left wall features a cool cork board-looking, in-the-middle-of-a-Jenga-game wall (just don't invite Michael J. Fox). They've done a good job with the atmosphere, too: dark, red lights and lots of light wood in the décor. We visited when it was rather empty (on a Monday night), but the loud background music left it feeling mostly non-awkward. All-in-all, it's a semi-upscale Asian restaurant (much better than the atmosphere at Chopstick House).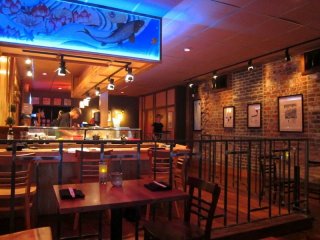 Open for lunch and dinner (except no lunch Sun or Mon.), you can get upscale sushi whenever you want. We found the service to be great; our waiter was very attentive. We noticed a very big difference from your standard sushi restaurant where they hire cousins — this place is a pretty "Americanized" sushi restaurant. And, although it doesn't seem so upscale for King Street, you'll avoid the super awkward atmosphere you might find in other Asian restaurants (think: owner's kids staring at you doing their homework on a Tuesday night).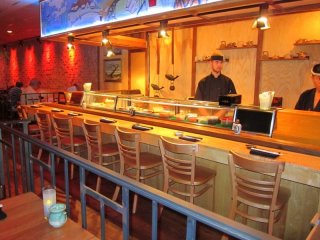 You'll find Izakaya a place where you can easily go in a hurry as the food arrives quickly but, given the portion sizes and nature of the restaurant, we recommend taking your time here. Plan on posting up for a while and ordering something every few minutes until you're full.
The TSUKUNE ($5) was where we started after some waiter intervention. It's essentially grilled chicken meatballs on a skewer (2 skewers x 3 meatballs each) with a sweet teriyaki glaze that added to the flavor. Served with a side of Dijon/spicy mustard that'll knock you off your feet/clear the sinuses, the moist meatballs made for an excellent app.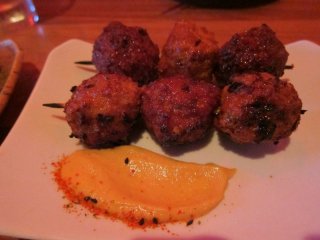 From there, we tried the DRAGON'S TONGUE ($7) sake, which combined flavors of pineapple vinegar, aloe, kaboshu, jalapeño. Our synopsis: it tastes like aloe vera, but in the most refreshing way possible. There's a hint of jalapeño, but it's not very spicy or very sweet.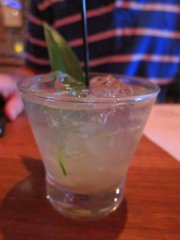 If you don't like branching out – or aloe vera in your drink – go with the PALMETTO "GINGER SLAP" ($4) from Holy City Brewing. It'll compliment anything served in this place.
The TRASH ROLL ($8.50) was good but probably the worst value we got all night. It's essentially a "mystery roll" that the sushi chef makes new every time—you could order 5 in one night and get 5 completely different rolls. Ours was a roll with white tuna and avocado topped with crab and spicy mayo. You'll only get 6 rather small pieces, which is why I thought it to be a bad value. But…it's a good go-to if you're a bad decision maker.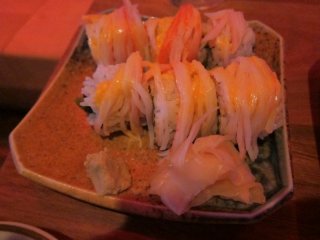 Jumping in on the DONBURI section of the menu, we went with the KATSU DON ($14) next. I'm not entirely sure what part of Asia this dish stems from, but I can say that it was simple and tasty. It featured a fried pork cutlet, fried egg and onion, all served over a bowl of piping hot white rice. Don't be fooled: even the rice was flavorful—maybe there was a sauce on it?—leaving for a surprisingly sweet concoction that was super moist and left you wanting more (but with that combo, how couldn't you?). One potential downside: no veggies to be found anywhere, so don't come expecting hibachi-style fried rice.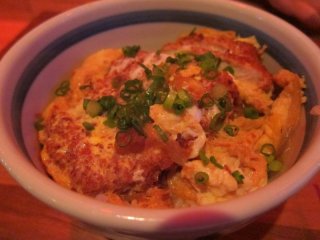 BOTTOM LINE: Good sushi. Good atmosphere. Good prices.