NOTE: Burger Babies is now closed.
293 King
Lunch, Dinner
$
How to save $: Grab a CofC campus coupon book (available for non-students like us if you can find them) and use the BOGO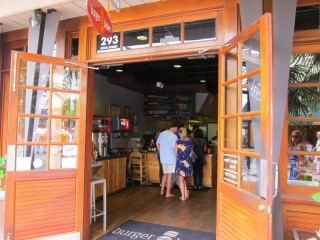 The restaurant opened about a year ago, offering baby burgers — or simply hamburger sliders to the untrained eye. The employees make the burgers pretty fast (I guess these "babies" don't have to cook as long as the larger-sized ones) and the variety of beef, turkey, chorizo and tofu burgers are sure to please even the pickiest of eaters.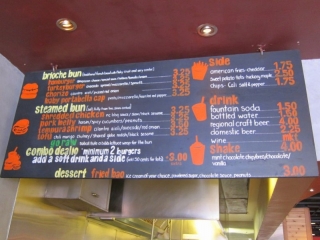 They offer two daily specials, which pretty much guarantees that there's something on the menu that you'll like. The best part? You don't have to choose just one burger– the typical meal consists of two. And, you can try the combo: two burgers with fries+drink for $3 more. That'll put you up to $10+ pretty quickly (not even counting the awkward tip/don't tip option on the receipt), making the cheap restaurant not so cheap anymore. But, what's new?
We tried all three types of buns (brioche, steamed and the "raw" version: a bed of lettuce).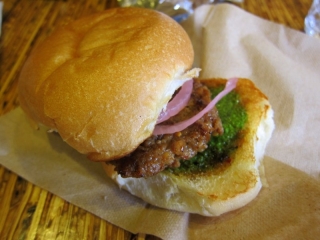 The CHORIZO burger ($3.25) comes with cilantro aioli and pickled red onion. The brioche bun is oversized for the meat, but the chorizo is so spicy that it makes up for its small size. Pretty tasty and pretty similar to a regular hamburger, with a little extra spice.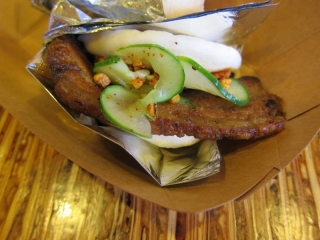 We tried the PORK BELLY ($3.25) on the steamed bun, which is a soft, fluffy, Asian-esque and taco-shaped bun (like dim sum without the flavor). This slider comes with hoisin, spicy cucumbers and peanuts, which added to the Asian feel. It's clearly one of the least healthy options because it's basically a strip of fatty bacon. It's essentially an Asian-style hamburger. And pretty good, but not as spicy as the chorizo option.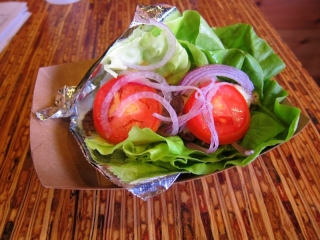 To try the "GO RAW" version of the bun, we opted for the standard HAMBURGER ($3.25) with house-ground beef (25 percent brisket, 10 percent short-rib and 65 percent chuck), American cheese, tomato, onion and a "special sauce" that tastes just like a mayo/mustard mix, all wrapped in a bed of lettuce. It was pretty hard to eat, but refreshing and light, especially after downing the fatty pork belly.
BOTTOM LINE: Burger Babies is good, but, honestly, Sesame burgers in Mt. Pleasant or North Charleston are tastier and a better deal (three beef sliders for $8.25) vs. quickly $11+ at Burger Babies. But, if you're craving tiny burgers and don't want to drive to Mt. Pleasant or North Chas — and have completely forgotten about Lower King in favor of Upper King, Burger Babies delivers downtown from 11 a.m. to 8:45 p.m. Mon – Sat. and 11 a.m. to 3:45 p.m. on Sundays.