Quan's Hot Dog Cart
Corner of King and Morris
11 p.m. – 2 a.m. Weekend only.
$ (Dirt Cheap)
This isn't your parents' hot dog stand (because they play Scrabble and go to bed by 9):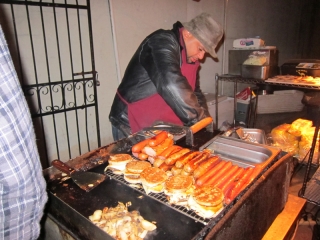 Been out drinking for the night? Made it til at least 11 p.m. and need to soak up all that Red Bull and Vodka with something salty, cheap and delicious? Well, you're in luck because the hot dog stand at King and Morris is likely open to serve up just what the doctor ordered.
I tried the Italian sausage with sauerkraut, onions and mustard. You'll be hit with an immediate rush of saltiness and faint spice from the mustard but just wait for it, within a few seconds, the sharp spice from the Italian sausage will hit as you fully experience the flavor. The addition of the onions and kraut, which had been simmering on the grill in all of the hot dog grease, was the perfect compliment. For $4 you can't go wrong.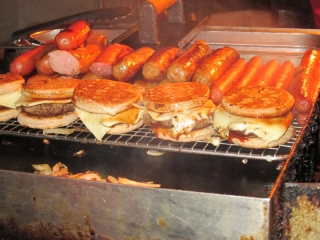 For the more adventurous, they were also serving up some type of sausage McGriddle sandwich (see picture) for around $6.