549 King
Pub/Bar Food, Irish
How to save $$:  Happy hour from 4-8 p.m. gets you half-priced apps and draft beers. There's really no other time to go.
We went looking for some quick food with cheap prices one night on King Street.
Because Charleston is pretty snobby with food, it's surprisingly hard to find a cheap, fast and good place right on King Street.
If you've been using O'Malleys appropriately, it's always involved a fake ID, cheap shots and a tab that Daddy is floating for you (along with your CofC tuition). Well, don't be alarmed when we tell you it's a full on bar and GRILLE–yeah, who'd a thunk it?!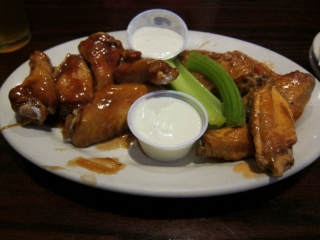 From 4 – 8 p.m., it offers Happy Hour prices with half-priced drafts ($2-3), $2.50 house liquors and half-priced apps. It's easy to make a dinner out of it with the quesadilla or wings ($8.99 -or $4.50 during HH) for 10 wings. The food and drinks – and the specials – are nearly identical to Beer Works, which is right across the street, but the good news about O'Malleys is it offer its happy hour prices until 8 p.m. (and Beer Works stops at 7).
We tried THE O'MALLEY'S WING MENU ($8.99 when full price), and split the flavors between Spicy Ranch & Sweet and Spicy Plum. Nothing too fancy here, and, really, the two flavors tasted like weak concoctions out of a bottle. The plum tasted like teriyaki, but maybe a bit sweeter. Not spicy at all, and we say it's not really worth your time. I'd get it again – you can't beat the price – but I'd try two different flavors.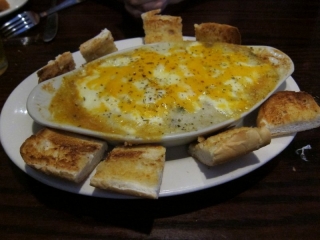 We also tried the SHEPARD'S PIE ($10.99, and never on sale for HH), one of its specialties with peas, carrots, lima beans, ground beef, ground lamb & gravy topped with garlic mashed potatoes, then baked til it's golden brown. It's a pretty hefty portion and very filling, what with all the meat and potatoes. For a rather simple, boring dish, it was really good, although it's not surprising that a pub got it right. Although it's not anything I would crave coming back for, I would get it again if I find myself back at O'Malleys.
BOTTOM LINE: Was it bad? No, not at all. Just painfully average. It's your typical Irish pub, plain and simple. Once you've seen one, you've seen them all, but this one offers good happy hour specials and is in perfect proximity to all the other places you want to be.