381 King
Mexican, Southwest
$-Cheap
How to save $:  You can often find coupons online for BOGO
Moe's Southwest Grill: the place we've all been but never thought of as review-worthy… until we were forced to write one. If you've been living under a rock (or, even worse, just not in the South) Moe's is an Atlanta-based chain with 350 locations focused mostly in the Southeastern US. It is the humble opinion of Eat King Street that in a head-to-head battle with Chipotle or Qdoba, Moe's will kick their asses every time, hands down–but that might just be because I practically grew up on the stuff.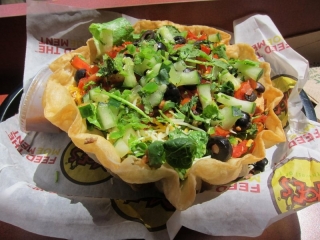 First off, quit fricken yelling at me with "WELCOME TO MOE'S" when I'm just trying to get appx. 24 oz of burrito goodness and make this overhang vanish.
My go-to at Moe's is the John Coctostan (or J.C. for short if you're afraid you can't say "Cocktostan" without immaturely smirking… I can't). This time, though, in an effort to shake it up a bit, I went with the CLOSE TALKER SALAD ($6.59). I chose grilled chicken, black beans, cheese, salsa, fresh jalapeños, and cilantro, and, although it was good, I'd go back to the quesadilla the next time I'm there.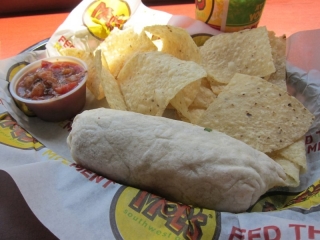 McCown ordered the MOO-MOO MR. COW ($3.49), the kid's burrito that comes with a free drink and cookie. She also went with the chicken and black beans combo, along with a few other toppings we're all familiar with. Many may overlook the kid's menu, but this has the perfect amount of food because the adult versions are sometimes just too much once you fill up on the free chips and salsa.
Which brings me to the best part about Moe's: the free chips and salsa. And even better: you have more than 5+ salsas to choose from + a few hot sauce options–what could be better? Maybe it's neighbor, Juanita Greenberg's, will take a hint and start offering them for free, rather than basically stealing money from us when we order it over there.
BOTTOM LINE: Moe's mixes up pretty fresh ingredients at a great price, resulting in a very appealing lunch proposition on King Street. It might not be local, but quick, delicious & cheap has a lot going for it.