428 King
Italian (Lunch, Dinner)
$$
How to Save Money: Thursday is $2 house liquors all night. Happy Hour is $2 domestic, $3 imports. BOGO apps from 4-8 p.m.
You can often find gift certificates on Restaurant.com and coupons in many of the weekly advertising circulars around Charleston.
If you're looking for a way to bypass the microwave when cooking frozen entrees from the grocery store, look no further than Joe Pasta.
This "Italian" restaurant reminds me more of Harris Teeter than Italy– the only thing that could make it worse is if they charged us in Euros. Entrees are roughly $15 for not-delicious food.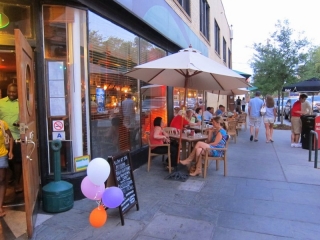 After looking on my app (Cocktail Compass: Charleston) that tells me all of the Happy Hours nearest me and what they offer, we saw Joe Pasta had BOGO appetizers until 8 p.m. We headed there to check out the apps and sit outside on their patio, overlooking the intersection of King and John Streets.
Turns out, the only saving grace of our experience was the weather. As soon as we sat down, we confirmed with our friendly server that the apps were, in fact, buy-one-get-one-free — he said he knew nothing of that offer. He checked with a manager and came back to tell us he was wrong.
Finding that most everything was fried, we settled on the ITALIAN QUESADILLA ($10.99) and JOE'S PLATTER ($9.99).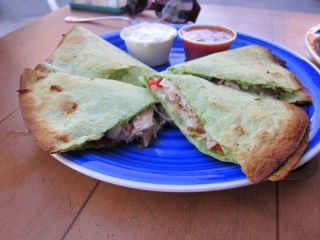 The food came quickly, and we dove right in. Although we ordered the quesadilla with Italian spicy sausage, it arrived with chicken, and, since we were in a hurry, we didn't bother telling the waiter of the mistake. Maybe we should have. The quesadilla, made with red peppers and onions (and overflowing with mozzarella cheese) came with a side of marinara sauce instead of the usual salsa.
How Italian of them.
But even the sauce couldn't add enough flavor to the dish. I'm a big fan of oozing mozzarella cheese, but I was left wanting more with this dish — and, although the spicy sausage might have added the "oomph" the chicken lacked, I'm not willing to order it again to see. A quesadilla is pretty hard to screw up – so it was the better of the two orders. But, for $10.99 – Jeff says it was dangerously close to a rape on the his wallet.
Joe's Platter came with two each of fried chicken tenders, fried mozzarella sticks, fried cheese ravioli and bruschetta. Nothing special here – just a mound of fried food straight from your local grocer's freezer. The bruschetta tasted like yesterday's thickly sliced garlic bread lightly toasted to cover up the staleness.
Jeffrey says, "McCown ordered it – so no surprise that a dish meant for a child was a child's dish." I'm not sure I approve of that comment.
Disclaimer:  We didn't sample any of their pasta entrees and it is a pasta place after all, but if this experience did anything (because it didn't leave us satisfied), it confirmed that we won't be back to give it another shot.
Overall: Ehhh… If you're starving and want to save some money, go to Joe Pasta before 8 p.m. for the BYGO (but make sure your server knows about the special)….scratch that: If you're starving, either go somewhere else or stay starving before heading to this place.