439 King Street
Mexican/Southwestern
$
Lunch, Dinner, Late Night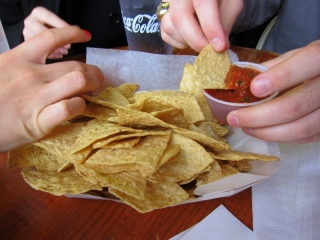 The hostess led us through the narrow bar and kitchen to the outdoor patio which was noticeably grimy. The hostess said in passing:"This place looks pretty good–you should have seen how much of a wreck it was last night!" She timed her comment perfectly with the smell of ripe vomit and stale beer that overwhelmed our senses as we took our seats. Needless to say, we opted for the more cramped indoor seating.
Don't come to Juanita Greenberg's expecting free CHIPS AND SALSA that 99% of all other Mexican/Southwestern restaurants offer; here they'll cost you $3.95. What you can expect is for the chips to be borderline stale and the salsa to be lacking in flavor and very watered down.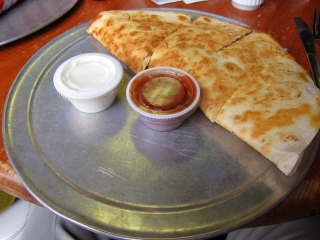 Juanita's nearly redeemed itself with the entrées. I went with the SAUSAGE QUESADILLA (it's chorizo sausage- don't know why they just don't called it the Chorizo Quesadilla?) which was quite good. Grilled to a perfect golden brown, it had a healthy heaping of onions as well as the generic white Mexican cheese which was chewier and stringer than any other I've had. Only downside was that they were as stingy with the chorizo as they were with the chips.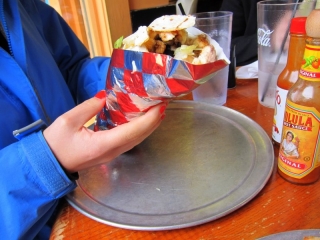 The second  entrée we tried was the CHICKEN BURRITO and I wouldn't bother wasting my time. The menu says it weighs in at a hefty 1 pound, but it turns out to be a classic case of quantity over quality. The chicken was dry, and unlike the show Flavor of Love, it could have used a whole lot more Flavor Flav  (don't worry, the corny pop culture references will keep coming).
I don't want to say I hated it, but I will say I loved it about as much as Casey Anthony loved her daughter. (Too soon?)
So, if you're jonesin' for some Southwestern, head to Moe's or Santi's or Taco Boy or really anywhere other than "The Nacho Royale". And, if you're a restaurant owner/manager, try to do a better job of cleaning up Saturday night's mess before lunch the following day.