559 King
Lunch, Sunday Brunch, Dinner & Late Night Bar Menu  (Thurs.-Sat.) $
American/Pub/Southern
How to save some cash: The plates are huge- split an order!
Midtown opened in 2009 on Upper King, and has been going strong ever since – leading the charge in Upper King's recent popularity. The owners are often around and make friends with the patrons. Maybe that's why they were voted 2009 Best New Bar in Charleston City Paper and haven't looked back since. They were also just voted 2012 Best College Bar (although I get the impression that's a title they're not necessarily too fond of).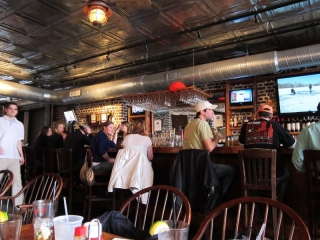 The decor is simple: exposed brick, several wooden tables lining the main room and never enough bar stools, with an outside porch (don't worry- it has heaters during the winter). But people don't come to Midtown for the decor. Since Midtown upgraded and spilled over into the adjacent building, there's plenty of room for a stage and a band every night of the week. But if you come after 10 p.m. on a weekend, you're guaranteed to wait in a long line to get in the door. We think it's just a way to garner exclusivity, but, either way, it works. 20-somethings abound at Midtown on the weekends – and even weekdays – and everyone in Charleston has heard of this up-and-coming bar. Most are referring to Midtown when they text that they're headed to "The Bar."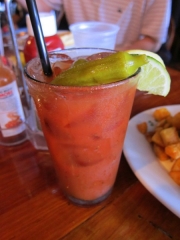 And while we could easily review a Friday or Saturday night at Midtown, we'll tell you about weekend brunch instead. We showed up for brunch on a rainy Sunday afternoon expecting to be the only table at Midtown. When we walked in, it was packed. BLOODY MARY's ($6.50) were flowing and the food is exactly what one would hope for at 3 a.m. when leaving Midtown. The ingenious secret is… everyone comes back to buy it the next day.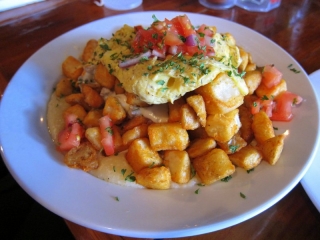 We tried the aptly named "MIDTOWN HANGOVER" BREAKFAST BOWL ($8.95). I'd recommend sharing it because I don't think even two people could finish that much food, but then again it depends on what kind of night you had. This bowl offers anything you've ever wanted for breakfast: a large bowl filled with cheese grits, biscuits, sausage, gravy, home fries, two strips of bacon, a fried egg and pico de gallo. You'd be crazy not to like it. And, did I mention, it's SO much food!
Next time you're wondering where to eat brunch (bonus: you won't be hungry for the rest of the day), try out Midtown. Come hungry. And you'll probably see all your friends there from the night before– they'll be wearing the same clothes, although you would never remember that.
Who knows, maybe soon Midtown Bar & Grill will have an inn in its little-used upstairs so you can party on Saturday night, sleep upstairs and then eat brunch on Sunday morning (when you conveniently pick up your card from the night before).